According to Gus, he thought it was time to post a photo of his Mom and Dad.
Thus far, we've only posted photos of Gus and thought there was no better way to introduce ourselves than on the Shutterfly holiday cards we'll soon be mailing to friends and family.  Consider this our "Happy Holidays" greeting from us to you!
We've blogged about our love for Shutterfly several times this holiday season and placed several orders over the past couple of months.  So far, we've purchased the holiday card you see below, 2 photo books, and a photo coffee mug.  It's a great place to buy the perfect personalized gift for the hard-to-shop-for person on your list!  See the links below to some of our favorite Shutterfly products:
Holiday Cards:  Obviously, we love them…ordered the very same one you see below!
Calendars:  We've purchased these before and love that you get to see a new photo (or multiple photos!) each month.
Thank You Notes:  Perfect for sending post-holidays to give thanks!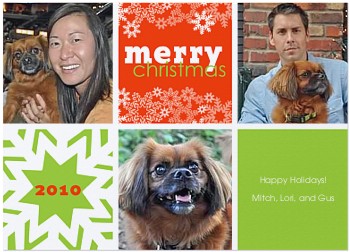 Mod Snowflake Flurries Christmas Card
The photos we chose for our holiday card were all taken in 2010.  The upper left photo was taken at the AT&T Center at a San Antonio Silver Stars WNBA game.  They reserved a special night for guests to bring their doggers!  We had a blast, but Gus couldn't have cared less…not a big surprise.  The upper right photo was taken during our summer trip to Iowa.  We were eating lunch al fresco at Bo James in Iowa City (Go Hawks!).  The bottom photo was taken during one of our Saturday trips to the park.  Gus LOVES the park, and we love taking him!
Here's my post disclaimer and where you can snag yourself a fabulous deal…Shutterfly is thankful for us bloggers and has a fantastic promotion for anyone interested in receiving 50 free holiday cards!  All you have to do is click here to get registered.  Friday, December 10th (today!) is the last day for bloggers to register for this promotion.  Once registered, you'll have until December 15th to blog and share your project.  Easy peasy!  We've already received our $25 account credit for sharing this project, and will soon receive our 50 free holiday cards for today's post.  What are you waiting for???  Click here to get registered now!