According to Gus, this offer is too good not to share with his blog friends!
After we posted about our Shutterfly photo card here, we noticed that Shutterfly provides bloggers with a $25 account credit for sharing their project.  What an awesome deal!
Here's how you can snag your very own $25 account credit:
Create an account on Shutterfly
Create and save a project (holiday cards are a quick choice!)
Once your project is saved, click on "My Shutterfly"
Click on "View all projects"
Select your project and click on "Share Project"
Name your project title and click "Next"
Click on "Get embed widget code" and copy
Paste code into blog (HTML) and post
Email:  shareproject@shutterfly.com with an active link to your post
Voila!  A few days later they will email you a discount code for $25!
We emailed Shutterfly the link to our blog post and received our $25 code just a few days later.  We LOVE great deals like these and will probably order more holiday photo cards or maybe even a photo ornament!  We encourage you to try it out.  Joining is free and who couldn't use an extra (FREE) $25 to spend this holiday season!  Link back to this post if you decide to share a project, we'd love to see what you come up with.
Here's another card we created with a photo of Gus.  It may even be better than the last card we shared!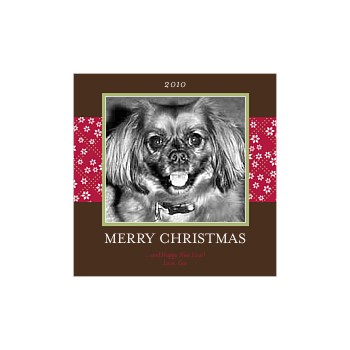 Merry Blossoms Christmas Card
P.S.  We didn't receive any product or compensation for this post.  We just wanted to share this great deal we stumbled upon!